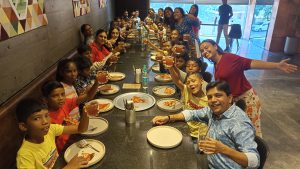 The Return Gift
It all started with the thought of doing something with the Onam Sadya contributions. And we decided to have lunch with a bunch of kids from Jumbish. The idea behind this was simple ~ everyone deserves a good meal. 
We went to the Dome pizzeria where we didn't only experience the process of making and eating the pizzas, but also experienced the pleasure of gifting! 
These were children most of whom have never eaten in a proper restaurant. It was a great experience to see the joy of having pizzas and pasta on their innocent faces. It was more receiving than giving this kind of gift. 
We did simple stuff together- played some games, chatted with them and had food. We had a wonderful time together. The children got mingled with us easily. 
The children told us about their families and some other things about them. They said that they enjoyed the treat and our company. Some of them said, "We have seen the pizzas on TV only, and this is the first time we are having it!" 
We had a plan to give a gift to the children, but by doing this, we actually received a gift of joy and togetherness in return! 
If the smile count is any indication we all had a jolly good time. In a very short time we felt so close to one another and while parting many of us had already started thinking about ways of meeting again.