7D food exploration -Life Chutney taught me a lesson which I won't forget for my life.
When we all entered the kitchen and saw ingredients that we could hardly associate with chutney and we all were a little skeptical about it. We were wondering what to do with all these weird ingredients. That is when we are told this is going to be our life chutney. We can pick up as many ingredients as we wish and in the quantity, we want to prepare our life chutney.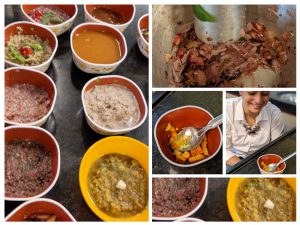 The flavors were synonymous with the experiences in my life I started to see the flashback of my journey while picking every ingredient- sweet, sour, bitter, tangy, spicy, salty- each ingredient I picked reminded me of a phase in my life. Also, the way my life has different colors I made sure to add different colors to my chutney- beautiful purple from Kokam and delicate white from Coconut. The pounding of chutney reminded me of the difficult days of my life. But like the pounding of chutney released the flavors, infused them together, and turned separate ingredients into this chutney, the grinding that I got from life was also something that brought me closer to who I am now- someone who is made stronger with time and can face any challenge with a smile.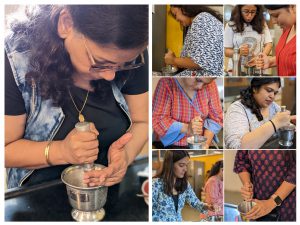 Overall a lesson learned is that life pounds you and it has all different flavors. You have to take it as essential for the outcome expected. 
A few other thoughts on life chutney from my food explorer friends:
Mariyam – I will remember the making of life chutney and sharing of the experiences by my fellow foodies. I gave myself the luxury of enjoying the process of grounding and relishing the chutney which life makes out of me!!
Subhalaxmi – Everyone's definition of 'chutney' is different, just like everyone's perception of how life ought to be lived.
Payal – During this, I realized my true nature. I  wanted to add all the flavors. I also wished that my life chutney should be the best and liked by everyone. This is a feeling that I could also relate to my real life where I always try my best in whatever I do. I want to be liked by all and I try to add all the flavors of my attitude to things that I do in my real life.