Mehman Nawazi Of Rander
Mehman Nawazi
Today we decided to explore the long-lost gem- Rander. I have been in Surat for the past 20 years, but this part of Surat was unknown and untouched by me despite its proximity to our school. We explored and visited the various beautiful heritage sites and charming architecture of Rander. The history of Surat and the stories associated with it brought history alive. It felt like we went back in time. The Jain and the Muslim community living together with many temples and mosques next to each other showed us how the people here lived peacefully and happily together despite what is otherwise believed to be the case. 
The people here were so generous and welcoming, including 'Abbas bhai' who from his busy schedule gave us almost 4 hours to help us explore the place. He was polite, soft spoken, smiling and sharing with us all the knowledge about the place. Taking extra efforts to get permissions for places which were otherwise out of reach for us. 
After all the walking, we were not just ready but really hungry for the aloo puri and khawsa that we were here for. So the next stop for us was 'Nakhuda Nasta center'. The place was brimming with aroma and enticed our tastes buds and we were welcomed here with a warm smile. We were first shown the process of how they make these iconic dishes. He took us to the kitchen, showed the making and answered all the questions. Someone revealing their business secret is something I saw for the first time. 
And finally we ordered everything they had on the menu- Aane do!- alu puri, cheese aloo puri, egg aloo puri, chicken aloo puri, rainbow aloo puri, veg khawsa, chicken khawsa, egg khawsa! After eating to our hearts content we wanted to drink something. He was really kind to get us drinks from another shop. This seemed like a local fav- RimZim which was really refreshing and reminded us of our childhood days. Next on our list was hand churned ice cream! And not just one flavor, Abbasbhai got us 12 different flavors! When the plates arrived on our tables we were all love struck- the colors and creaminess..After eating so much we were pretty sure we won't be able to finish it but when we looked around after 10 mins all the plates were licked clean! 
"Atithi Devo Bhava "
Something I have only heard since I was a child, I experienced today.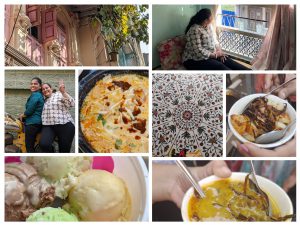 This Mehman Nawazi of Rander blew our minds and made the humble experience of eating aloo puri and khawsa into an unforgettable memory. In Rander you get not just good food but also truly authentic human beings!
This is the end of the story
Regards,
Payal Jain